With over one-billion users, TikTok is making a storm in the marketing world! Despite the focus on authenticity, it's a content-hungry platform. That means you need to be planned and prepared, to ensure it works for you! Luckily, our favourite scheduling platform recently announced the ability to schedule TikTok content!
We've pulled together this step-by-step guide for how to schedule TikTok posts on Hootsuite!

How to schedule your TikTok's:
You can schedule Hootsuite via the desktop or mobile app so get logged in and let's jump in:
1. Connect your account
The first step in learning how to schedule TikTok posts is to connect your account!
It's important to know that you need a Business Account to connect your TikTok to Hootsuite, so before you get going, you'll need to switch your account over using the settings and privacy option on your TikTok profile page.
2. Film Your Content
It's a given, but you can't schedule your content if there isn't anything to schedule! We'd recommend filming your videos outside of TikTok where possible.
3. Save Your Content
Once you've filmed and edited, save your content to your phone's gallery or camera roll – this applies to both Desktop and Mobile scheduling.
If you're filming native to TikTok, the only way to save your video will be by screen recording your draft (watch out for quality issues here though). Hootsuite has suggested another workaround for this potential snag! They've recommended posting the video privately and then downloading it to your phone. For Desktop users, you'll have to send the video over to your desktop before moving on and don't forget to remove the watermark!
4. Compose your post
With your content to hand, you need to compose your post…
Head over to Hootsuite and click the "Compose" button on the dashboard. Once in the composer, click (or tap) on the "Publish To" button to see the drop-down menu of platforms. Select your TikTok account.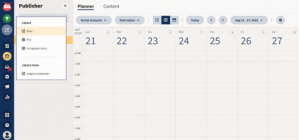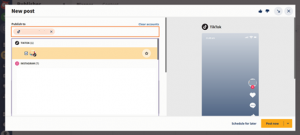 Next, upload your video content.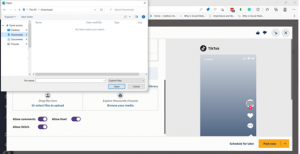 Then write your caption (limited to 150 characters) and include your hashtags.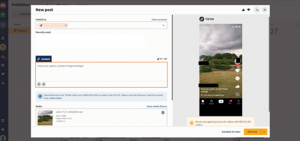 5. Schedule Your Post
Desktop users, click on schedule for later and then select the date and time you want your content to go out. Once you've completed that step, click done and then schedule.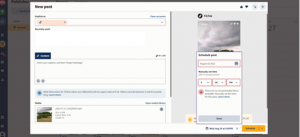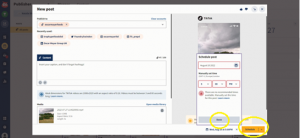 If you're a mobile user, after you've composed the post, click "Next," and you'll be taken to the scheduling options. From here, click "Custom Schedule," enter the date and time you want the post and click "Ok."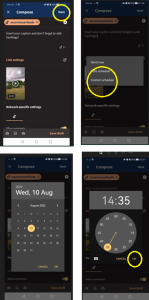 And voilà! Your content has been scheduled and you've leant how to schedule TikTok posts!